Summer Precipitation in the Pigeon River Basin
Mentor: Dr. Douglas Miller, Atmospheric Science, UNC Asheville
Project Base: UNC Asheville
Academic Area: Atmospheric Science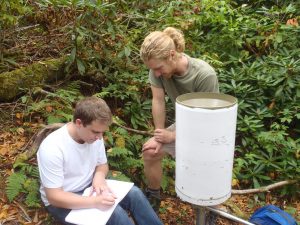 Observations from a high elevation rain gauge network located in the southern Appalachian Mountains since 2009 will be examined to find spatial and/or temporal trends in warm season rainfall that might be indicative of a local response to climate change.
---
Climate Change Effects on High Elevation Rock Outcrop Plants
Mentor: Dr. Jonathan Horton, Biology, UNC Asheville
Project Base: UNC Asheville
Academic Area: Biology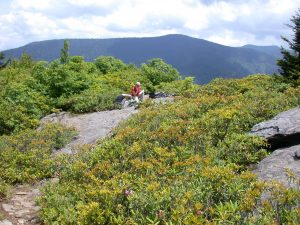 High elevation plants in the southern Appalachians rely on frequent cloud immersion to minimize water stress. With changing climate, cloud ceilings are predicted to rise, reducing the duration of growing season cloud immersion. This project will investigate the impacts of reduced cloud immersion on the physiological status of high elevation rock outcrop plants.
---
Climate and Environmental Information Communication Strategies
Mentor: Jake Crouch, NOAA/NCEI
Project Base: NOAA National Centers for Environmental Information (NCEI, Downtown Asheville)
Academic Area: Science Communication and Visualization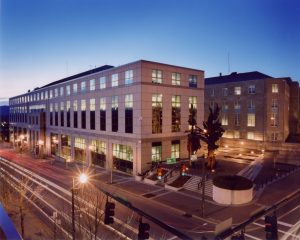 NCEI is responsible for hosting and providing access to one of the most significant archives on Earth, with comprehensive oceanic, atmospheric, and geophysical data, from the depths of the ocean to the surface of the sun and from million-year-old sediment records to near real-time satellite images. Effective communication with stakeholders, from policy makers to the media and the general public, is critical to ensure the American public is informed about our changing environment. This internship will build on understanding science communication methodologies and practices. Work projects for this internship will be tailored to the student however potential projects are: Assisting with development with long-term strategic science communications planning, Conducting analysis across each of NCEI's social media platforms and determining factors that led to the most successful social media reach and widest audience, and developing StoryMaps to help tell NCEI's story and to highlight its science, service and stewardship roles.
---
Development of a High-resolution Greenspace Index
Mentor: Dr. Jessica Matthews, North Carolina State University/N.C. Cooperative Institute for Climate Studies (NCICS)
Project Base: NCICS (Downtown Asheville)
Academic Area: Statistics/Geographic Information Systems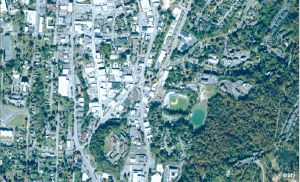 About ½ of the world's population live in cities and this number is expected to be about 68% by 2050. Urban green space and associated nature-based solutions provide an innovative pathway in which cities can launch and enhance local resilience and sustainability initiatives. Greenspace plays an important role in the health of residents and can be simultaneously used to combat the urban heat island effect, climate extremes (e.g., extreme heat), and other environmental stressors (e.g., poor air quality) associated with life in an urban area. This project will work towards a  high resolution greenspace index to inform city and regional-level investment and planning by leveraging the 1-m National Agriculture Imagery Program (NAIP) imagery dataset and performing unsupervised classification methods (e.g. k-means cluster analysis) to identify classes of land cover and contiguous areas of public green space. A greenspace index will be calculated based on the resultant vegetation metrics (e.g. % coverage by vegetation classes, health of vegetation, distribution of green space across urban areas) as well as coupled with population and socioeconomic information to determine proximity and accessibility of greenspace at the local level.
---
Climate and Respiratory Health
Mentor: Marjorie McGuirk, CASE Consultants International, Asheville, NC
Project Base: The Collider (Downtown Asheville)
Academic Area: Climate Impacts/Human Health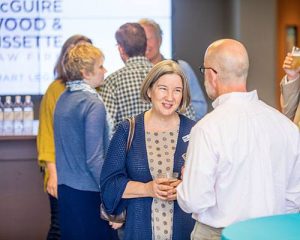 The successful applicant for this interesting internship will have the opportunity to put climate analysis into a commercial application for respiratory health. Building upon previous work, your research will expand an existing climate and health commercial product. You will add your own insights and results of their own meta-research to the product stream. You will join network meetings at The Collider to meet other interns and professionals. While working with CASE, you will meet with leading experts in the field of climate services, learn about the different fields of professions that are climate-sensitive, get exposed to the working world of consultants, and engage in conversations about employment with NOAA in all its various Line Offices. You will search, collect, and review published peer-reviewed papers that deal with the subject area, and notate, validate and codify the evidence-base for weather, climate and environmental exposure correlations. You will utilize all your research and organizational skills in a disciplined methodical manner for best results.
---
Influence of Climate on Floral and Pollination Phenology in Endangered Plants of the Southern Appalachians
Mentor: Dr. Jen Rhode Ward, Biology, UNC Asheville
Project Base: UNC Asheville
Academic Area: Biology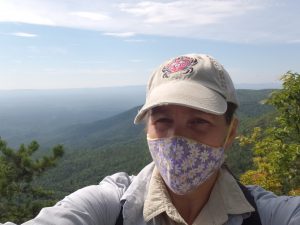 We will examine relationships between historic and contemporary timing of plant flowering, pollinator visitation, and temperature / precipitation. Our focus will be on two endangered and threatened plants from the southern Appalachians: Virginia spiraea (a threatened rose) and Jones' pitcher plant (a carnivorous plant native to parts of North and South Carolina). Anecdotal evidence suggests changes in the phenology of flowering events, which could have dramatic influences on these species' long-term success.
---
Societal Impacts of Climate Change: The U.S. Climate Resilience Toolkit
Mentor: Karin Rogers, National Environmental Modeling and Analysis Center (NEMAC), UNC Asheville
Project Base: The Collider (Downtown Asheville) and UNC Asheville
Academic Area: Climatology/Climate Communication
The U.S. Climate Resilience Toolkit (toolkit.climate.gov) is a website designed to help people find and use tools, information, and expertise to build climate resilience, offering information from across the U.S. federal government in one easy-to-use location. The REU student will work with the site's editorial team based at NEMAC and NOAA to enhance the content of the toolkit and/or investigate an aspect of climate resilience. The student will also have the opportunity to engage with other NEMAC private-sector project partners at The Collider, which provide a range of climate services to the community.